10 Wonderfully Thoughtful End of Term Teacher gifts
It's the end of another school year, and the summer holidays are just around the corner. Teachers go above and beyond for their students and we think they deserve some recognition for their hard work! This is why it's important to choose the perfect Teacher Gift to help you say thank you this End of Term.
Personalised gifts for teachers are a special keepsake that truly say 'thank you' in the best and most memorable way.
We have gifts suitable for Nurseries, Pre-School, Teaching Assistants, Teachers and Childminders that are sure to make them smile, here are 10 Wonderfully Thoughtful End of Term Gifts that will make you top of the class in the next school year!
Personalised Gifts you can create in minutes.
As much as Teachers appreciate the End of Term gifts that they get, no one needs 25 boxes of chocolate gifted to them all on the same week! Our Personalised Best Nursery Plaque is the ideal keepsake gift that would look great displayed on a desk.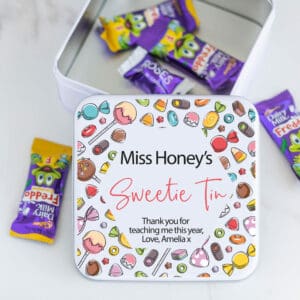 Our Personalised Sweetie Tin is one of our most popular products, a gift that everyone and anyone would love!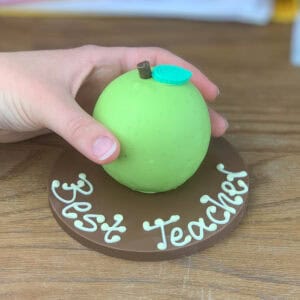 Why not gift your favourite teacher in the sweetest way popular with this Personalised Terry's Chocolate Orange Apple Plaque? A unique gift that will be sure to put a smile on their face!
Does a gift get more personal than this? Write on each of these tokens all the reasons why they are your favourite teacher or teaching assistant and then put them inside our Personalised Gift Box!
Fill our Personalised Teacher's Memory Scrapbook with photos, messages or drawings of your choice and gift your teacher this very special keepsake!
Our Personalised Pen Pot would be a great finishing touch to any teacher's desk, it's both a thoughtful and practical gift for that special teacher this end of term!
Our Personalised Freestanding Trophy is one of our newest additions to our End of Term Teacher Range. This beautifully vibrant gift is perfect for desks and classrooms and is sure to be a treasured gift for years to come.
Designed and made in house, as always. Our Personalised Wooden Keyring will make the perfect gift your Teacher, Teaching Assistant, Childminder or whoever has helped you grow this year!
The ideal gift for those teachers who love a simple, beautiful and contemporary design! Add a Personalised Pen to make it that bit more special.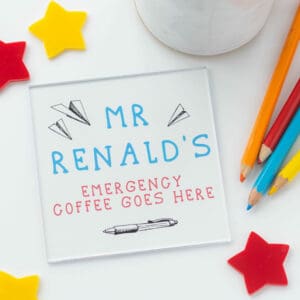 We all know those Teachers who can't start the day until they've had their Tea or Coffee…well this ones for them! Made from acrylic and beautifully UV printed, this gift will be sure to make them laugh!